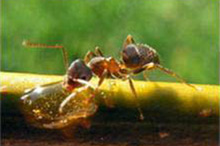 Welcome to Ant Control Leigh On Sea We can help with all your Ant Control Problems for both Domestic and Commercial customers.
Call Pest Control Leigh On Sea for an efficient and dependable Pest Control and prevention service in your area.
St George's Pest Control Ltd(Pest Control Leigh On Sea) is a member of the BPCA (British Pest Control Association) and has several accreditations including CHAS, Construction line, Safe Contractor, CSCS and have been approved by the Essex County Council – Buy with Confidence scheme.
For all your Ant Control Problems and for a quote for Ant Control in Leigh On Sea please contact us on 01702 278024.
Garden Ant
The Queen Ant is 6-9mm long, the Worker Ants are similar in appearance but smaller than the queen around 3-5mm. The Drones are flying ants (5-7mm) with delicate wings and a different shape to the workers.
The drones (flying ants) are produced by queens when the nuptial flights are approaching, usually for a few days in July and August.
Lifecycle
After mating the queen ant finds a suitable place to dig a tunnel for a nest site to lay eggs. She discards her wings which become her source of food whilst the eggs hatch and grow to maturity.
The first worker ants that emerge are very small, they immediately begin to expand the nest and look after the queen before emerging and foraging above ground. The queen stays in the nest and continues to lay eggs increasing the colony significantly. One nest produces hundreds of new queens each year which are seen as flying ants (along with the drones) on hot humid evenings during the months of July and August.
When the young queens and male (drones) have completed their nuptual flight, the males die off and the young queens seek a nest site to stay for the winter, where she will lay eggs the following spring to start a new colony.
Garden Ants or Black Ants often make large nests with extensive tunnel connections, usually outdoors in lawns, flower beds, beneath paving slabs and at the base of walls. Ants create problems when they enter buildings to seek food.
Treatment
Residual insecticide treatment applied to internal areas and immediate perimeter areas. A summer's guarantee is provided for internal areas.